This article is a stub. You can help Milo Murphy's Law Wiki by expanding it.
World Without Milo
Production code:
118a
Broadcast order:
30
Broadcast Information
U.S. Premiere:
September 28th, 2017
International Premieres:
see below
World Without Milo is the 30th episode in the first season of Milo Murphy's Law. It aired on September 28, 2017.[1]
Episode Synopsis
Elliot gets to see what the world would be like without Milo.
Plot
Elliot starts his day off helping kids cross the street until Milo arrives and Murphy's Law kicks in. This pattern continues for several more days until he is fed up and wishes Milo was never born. He says so, shocking the students. He wakes up the next day to find no trace of Milo at all, much to his enjoyment. But it is short-lived, as he realizes his job is boring without Milo.
He tries to compensate by making disasters, to no avail. He then runs into a squirrel who tells him he is nothing without Milo, then runs away freaked out. He then runs into Vinnie Dakota and Balthazar Cavendish, who hear him screaming "Milo" and tells him that Dakota altered the space-time continuum so that Milo does not exist. They fix it, only for there to be five (the fifth Milo is on the other side of the road) Milos. When Dakota notices, he says "We're on it."
Transcript
For a full transcript of "World Without Milo", click here.
Songs
Gallery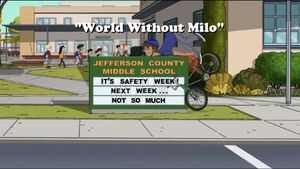 The image gallery for World Without Milo may be viewed here.
Notes
International Airings
March 18, 2018 (Disney Channel Japan)[2]
Trivia
In the first alternate universe:
In the second alternate universe, there are at least five Milos.
Elliot claimed that he and Sara went to the same high school when he was a senior and she was a sophomore.
Elliot interacts with Sara again. The first time was Missing Milo. Elliot's interacts with Cavendish and Dakota for the first time.
Elliot sings his second song for the show.
Allusions
Errors
There are four errors regarding the leash Sara is holding:

The dog isn't wearing a collar for the leash to be attached to.
As Sara and the dog turn around the leash passes through the dog's body.
The leash also passes through Sara's hand as she turns.
After Sara turns, the leash has a loop sticking out the other side of her hand which it didn't before.

Kris and Wally are seen entering Jefferson County Middle School, (they're high school age).
When Elliot yells, "Let safety reign!" In the sequence of scenes showing reactions to the echo;
Mrs. Brulee's eyes are all blue.
The two characters seen on skateboards were among those standing by Elliot in front of the school.
There are different characters in front of the school when the sequence ends than when it began.
Some of the characters who are on the sidewalk when the truck goes out of control were seen entering the school a moment earlier.
Elliot and Bradley have their second interact. ("Disaster of My Dreams")
Characters
References
↑ http://tvlistings.zap2it.com/tv/milo-murphys-law-world-without-milo-the-race/EP023630960055?aid=zap2it