Wally
Gender:
Male
Age:
Around 17
Wally is a fan of The Doctor Zone Files, often seen in the company of Kris.
Physical Appearance
Wally is a stocky teenager with blond hair and blue eyes. He wears a red shirt with an orange clock on the front. He wears Blue-Grey pants and dark Gray and Red Checker sneakers. He wears black bracelets on each wrist.
Personality
Like most Dr. Zone fans, he is obsessed with the franchise. Wally appears in the company of other top Dr. Zone fans and frowns upon non-fans.
History
In The Doctor Zone Files he is seen with Kris inline for the Doctor Zone movie. He is annoyed by Zack and Melissa's lack of knowledge on the franchise. He get annoying with them when Melissa comes up with a theory of Time Ape being Doctor Zone's brother. He is calmed down by Sara's speech and watches the film and cheers when Melissa's theory is true.
In The Wilder West, he and the other Doctor Zone fans meet Sara at the Nowhere Desert Dude Ranch to confirm if it was the filming location of a Doctor Zone episode. They believe it is until they are shown an old racehorse of the same name. They walk out on Sara disgusted, not knowing she was right.
In A Clockwork Origin Wally is seen at V-tech and abandons the company after the C.E.O. calls all his customers "mindless sheep".
In World Without Milo, he is seen attending Jefferson County Middle School.
In Fungus Among Us, he is one of the pistachions' prisoners at Lard World.
Gallery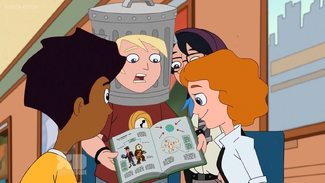 The image gallery for Wally may be viewed here.
Trivia
Sightings