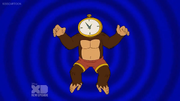 Time Ape is one of the characters in The Doctor Zone Files. He's Doctor Zone's brother and sidekick, as shown in the film The Doctor Zone Files The Movie Files.
Appearance
He is a transchronological being that appears as an ape with a clock for a head, or a clock with an ape's body. He seems to be like this because he was an ape with a clock for a head or a clock with an ape's body when his and Doctor Zone's home planet imploded and he fell into the space-time continuum. He also appears like this to avoid normal people's heads from exploding if they saw his true form.
Gallery
The image gallery for Time Ape may be viewed here.
Trivia
As the Doctor Zone Files title sequence shows, he stars as himself, which means he is actually like he is shown.
Ad blocker interference detected!
Wikia is a free-to-use site that makes money from advertising. We have a modified experience for viewers using ad blockers

Wikia is not accessible if you've made further modifications. Remove the custom ad blocker rule(s) and the page will load as expected.