The Note
Production code:
103b
Broadcast order:
6
Broadcast Information
U.S. Premiere:
October 17, 2016
International Premieres:
see below
"
Without that signature page, you'll have a month of unexcused absences.
"
The Note is the sixth episode in the first season of Milo Murphy's Law. It first aired on October 17, 2016.[1]
Episode Synopsis
Milo and the gang spend the entire morning chasing after his doctor's note. [2]
Plot
As Milo, Melissa, and Zack are on their way to school, Milo reveals that he is carrying a huge doctor's note that accounts for all his doctor-excused absences in the recent month. After an encounter with Elliot Decker, Milo loses the signature page with the doctor's single signature, without which his absences will go unexcused forcing him to repeat the seventh grade. The trio set out to recover the cover page, unaware that they could easily obtain a new signature page from his doctor, whom is playing golf at a nearby course. The trail leads them into a large office building, through a ticker-tape parade being monitored by a government agency, and finally into a large recycling plant.
After a long search that terminates in a near miss for Melissa, the trio recovers what they thought was Milo's note only to find that it's made out for one Lola Sunderguard. Lola herself then appears with her friends, with the group resembling Milo and his entourage down to a pet pig resembling Diogee. Milo's dog then proves to have the cover page for the note, and the government agents temporarily disintegrate Elliot when he impedes the trio's progress once again. Meanwhile, Milo's doctor is shown to be conversing with a fellow golfer and admits - after denying it earlier - that he is a doctor.
Transcript
For a full transcript of "The Note", click here.
Song
Gallery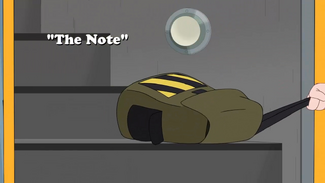 The image gallery for "The Note" may be viewed here.
Notes
International Airings
Allusions
Locations
Danville

Golf Course
Business Building
Ticker Tape Parade
Recycling Plant
Trivia
Errors
After the note detaches from the astronaut, the hail of ticker tape, the astronaut's limo and all the onlookers are suddenly gone.
Cast and Characters
References
↑ http://tvschedule.zap2it.com/tv/milo-murphys-law-the-doctor-zone-files-the-note/EP023630960003?aid=tvschedule