Smooth Opera-tor
The Show Must Go On.
Production code:
104b
Broadcast order:
8
Broadcast Information
U.S. Premiere:
October 26, 2016 (Disney Channel)
October 27, 2016 (Disney XD)
International Premieres:
see below
Smooth Opera-tor is the eighth episode in the first season of Milo Murphy's Law. It aired on October 26, 2016.[1]
Episode Synopsis
Milo goes to the opera and when things go wrong, he ends up center stage. [2]
Plot
Cold open
Episode
Song
Mezzo Soprano Opera/The show must go on sung by Milo and another actor.
Gallery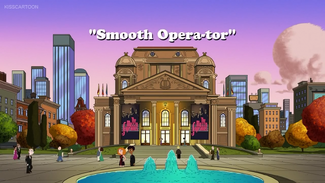 The image gallery for "Smooth Opera-tor" may be viewed here.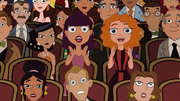 Notes
International Airings
January 18, 2017 (Spain)
February 4, 2017 (Latin America)
February 16, 2017 (Japan)[3]
February 24, 2017 (Southeast Asia)
Trivia
It is hinted that Milo has a crush on Amanda, though it remains unknown.
The pistachio protectors make another appearance.
Errors
Characters
References
↑ http://tvschedule.zap2it.com/tv/milo-murphys-law-party-of-peril-smooth-opera-tor/EP023630960004?aid=tvschedule
Ad blocker interference detected!
Wikia is a free-to-use site that makes money from advertising. We have a modified experience for viewers using ad blockers

Wikia is not accessible if you've made further modifications. Remove the custom ad blocker rule(s) and the page will load as expected.