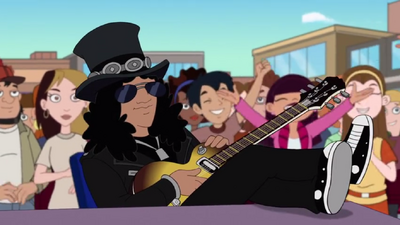 Saul Hudson (born July 23rd 1965), better known as Slash, is a British-born American musician and songwriter, best known for being the lead guitarist for Guns 'n' Roses, and briefly Velvet Revolver.
Slash voices himself as the third judge of the Battle of the Bands competition in "Battle of the Bands"
Trivia
Ad blocker interference detected!
Wikia is a free-to-use site that makes money from advertising. We have a modified experience for viewers using ad blockers

Wikia is not accessible if you've made further modifications. Remove the custom ad blocker rule(s) and the page will load as expected.