School Dance
Production code:
111b
Broadcast order:
18
Broadcast Information
U.S. Premiere:
March 16, 2017
International Premieres:
see below
School Dance is the 18th episode in the first season of Milo Murphy's Law.
Episode Synopsis
Amanda is concerned that Milo will ruin everything at her carefully orchestrated school dance. Meanwhile, Cavendish and Dakota investigate Milo while Chad, Melissa and Zack are convinced the two are vampire hunters after Mr. Drako.
Songs
Plot
Balthazar Cavendish and Vinnie Dakota are given their next pistachio mission: to put support stakes by each plant at a pistachio farm. After taking a look at the map that Gretchen eventually (after time traveling to do it yesterday) left for them, Cavendish asks Mr. Block about Milo. Hearing that without proof he shouldn't care about the kid, Cavendish decides to find Milo and try to discover something about him.
That evening, Milo and co. walk into the gym to a Niegra Falls themed dance. Amanda was head of every committee.
Gallery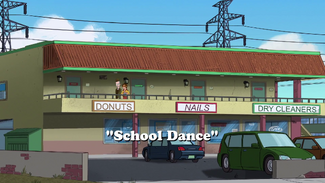 The image gallery for "School Dance" may be viewed here.
Notes
International Airings
Trivia
Melissa's eye are several shades darker than usual throughout this episode.
Milo knows how to operate a fuse box.
When Amanda points to Lydia having fun for her, the person directly behind Lydia looks like an exact twin of Lydia except for the color of her clothes.
The sign on the front of the door where Cavendish and Dakota get their mission is a reference to the author of the classic book The Time Machine.
Errors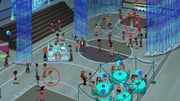 During an overview of the gym, a background character, the brown haired boy in a blue and white striped polo shirt, is seen in two places at once. He is seen by the snack table talking of two other kids and on the dance floor with a black haired girl in a blue light shirt.

Additionally, there is a scene where Joni appears twice.
Allusions:
Phineas and Ferb: In the last scene, it is seen people dancing under the notes of "Just Roll with It". A girl in the bottom left is doing exactly the moves from the video of "Zubada", a Phineas and Ferb song.
Characters
References
Ad blocker interference detected!
Wikia is a free-to-use site that makes money from advertising. We have a modified experience for viewers using ad blockers

Wikia is not accessible if you've made further modifications. Remove the custom ad blocker rule(s) and the page will load as expected.