This article is a stub. You can help Milo Murphy's Law Wiki by expanding it.
Sara Murphy
Gender:
Female
Age:
17
Sara Murphy is Milo's older sister. She is voiced by Kate Micucci.
Personality
Sara is very protective of her little brother, Milo. She sometimes wears a backpack like Milo, even though she isn't cursed by Murphy's Law. She is often worried that Milo could ruin her important moments, but she still likes to spend time with him. Sometimes her concerns for Murphy's law so overwhelms her that she makes errors ruining the moment for herself. (The Doctor Zone Files). She uses her cellphone a lot.(The Wilder West).
She is a huge Doctor Zone fan. Her shirt and pajama shirt both have a Time Ape image on them. In The Wilder West she spends the entire time on Nowhere Desert Dude Ranch taking pictures and collecting dirt samples because it is believed to be the filming location of an episode of Dr. Zone.
Physical Appearance
Sara is a fair skinned, slender girl aged 17 years. She has chin length blonde hair and blue eyes. She wears pink capris, a white, t-shirt with light blue sleeves and a picture of Time Ape on the front and red sneakers with white soles. She wears green four leaf clover hair clips.
Relationships
Family
Sara is close with her parents, as she is happy to go on vacation with them and watches television with them and her brother.
Sara and her brother are close, they are both fans of The Doctor Zone Files and have a caring sibling relationship.
Aquantences
Sara is warm towards her brother's friends.
Dr. Zone fan club
Sara often hangs out with fellow Dr. Zone fans.
Gallery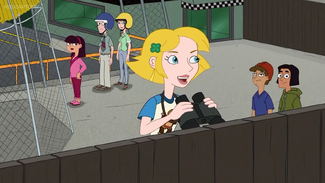 The image gallery for "Sara Murphy" may be viewed here.
Trivia
Sara is one of only seven characters in season 1 who's eyes have pupils.
Episodes
Reference
Ad blocker interference detected!
Wikia is a free-to-use site that makes money from advertising. We have a modified experience for viewers using ad blockers

Wikia is not accessible if you've made further modifications. Remove the custom ad blocker rule(s) and the page will load as expected.