This article is a stub. You can help Milo Murphy's Law Wiki by expanding it.
Rooting for the Enemy
Production code:
102a
Broadcast order:
3
Broadcast Information
U.S. Premiere:
October 10, 2016
International Premieres:
see below
Rooting for the Enemy is the third episode in the first season of Milo Murphy's Law. It first aired on October 10, 2016,[1]
Episode Synopsis
Milo attends his first football game after years, which turns into an extraordinary, explosive sporting event. [2]
Plot
At the Jefferson County Middle School pep rally proceeding Zack Underwood's first football game as part of the Jefferson County Middle School Geckos, Coach Nolan Mitchell expresses his belief that they are doomed to lose the game due to the opposing team consisting of players who have been held back six years straight. After causing a bleacher to collapse, Milo and Melissa are leaving when Zack pleads with them to come to the game. Milo expresses interest, but has spent a number of years not attending games due to Murphy's Law, instead spending the time with Melissa trying to find less dangerous activities. However, Mort then informs Milo that Coach Mitchell has given permission for Milo to attend this game, as he's already convinced that the team is going to fail horribly.
An enthusiastic Milo attends the game with Melissa, much to the consternation of Principal Milder and other students, among them Bradley, who are among the few spectators on the Geckos' side with the "Middletown" Tigers and their fans are out in force. The game initially goes quite poorly for the Geckos, something Bradley attempts to pin on Milo's presence, until Milo jokingly cheers for the Tigers instead and the Geckos score their first points of the game. Inspired, Milo quickly purchases all the Tigers' merchandise available and, after donning it, strides onto the field, launching into Rooting for the Enemy. This action allows the Geckos to quickly catch up with their rivals and eventually win the game, though a sinkhole caused by a rogue tunneling machine causes Milo and several spectators who carry him following the victory to fall into a hole. With a broken thumb as an injury, Milo is visited at the hospital by the team, given the game ball.
Transcript
You can read a full transcript of the episode here. Rooting for the Enemy/Transcript
Song
Rooting for the Enemy (Sung by Milo)
Gallery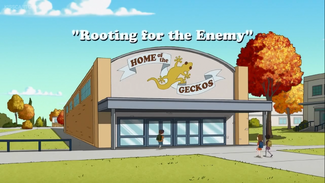 The image gallery for "Rooting for the Enemy" may be viewed here.
Memorable Quotes
Melissa: It's a good thing we're right next to a hospital.
Melissa
: Hi Principal Milder.
Principal Milder: Melissa. Milo, ha, Good to see ya. I was under the impression you promised Coach Michell you would never show up at a game.
Melissa: Oh it's okay 'cause we're gonna loose anyway. The coach said so at the pep rally.
Principal Milder
: Did he? I'm going to have to explain pep to that man.
Bradley: The one Milo-free zone, ruined!
Milo: Give me all the Tigers merchandise you've got!
Salesman: Aren't you guys Geckos?
Melissa: Do you want the sale, or not?
Coach: All right, team. I know I said we're gonna lose tonight, but you didn't listen to me! And I'm glad! Now, we're only behind by two points! So, I want you to go out there and continue not listening to me! You understand?
Team Member #1: Wait, so do you want us to stop listening to you now, or before we were told not to listen to you.
Team Member #2: Yeah, 'cause I wasn't really listening.
Coach: Oh--would you ju--I-I don't exist!
Melissa: Are you okay?!
Milo: (gives a thumbs-up sign) I think I broke my thumb!
Notes
International Airings
October 24, 2016 (Canada)
January 11, 2017 (Spain)
January 28, 2017 (Latin America)
February 10, 2017 (Southeast Asia)
February 14, 2017 (Japan)[3]
Allusions
Phineas and Ferb:

"Great googly Moogly", Major Monogram's catchphrase, appears on an announcement board and is said by Melissa.
After the game, a background character says "It's like Football X-7!", which is a reference to the episode titled My Fair Goalie.

One of the Tigers fans pours a drink over himself before the game. This is similar to NFL players pouring Gatorade on to the coach after winning the Super Bowl.
The music heard during the Geckos' first touchdown is a parody of Yakety Sax by Boots Randolph, best known as the music heard during wild chase sequences on The Benny Hill Show.
Trivia
The segment was first released on the Disney XD app, just hours before airing on television.
This segment marks the introduction of Coach Nolan Mitchell.
Detroit has a baseball team called the Tigers.
Errors
When Melissa makes a joke about the "worst", the clichéd comedy accent known as a rim shot is heard. i.e.; tap tap, CRASH. A band member exclaims, "Hey, I found a snare drum." But he, nor anybody else has a cymbal to produce the crash.
The last snapshot shown during the end credits takes place during the day even though its scene in the episode takes place at night.
Milo mentions in the song Rooting for the Enemy that he spent seventeen dollars on Tigers merchandise, even though earlier he paid with a $20 bill, $5 bill, $1 bill and two coins of unknown denomination (though based on the design, they might be nickels). However, it is not shown if he received change, so he may have.

If he did receive change, he would have gotten at least eight dollars back.

When Everyone comes into the Murphy Suite to see Milo, the cheerleaders seem to already be in the room.
Characters
References
↑ http://tvschedule.zap2it.com/tv/milo-murphys-law-rooting-for-the-enemy-sunny-side-up/EP023630960002?aid=tvschedule
Ad blocker interference detected!
Wikia is a free-to-use site that makes money from advertising. We have a modified experience for viewers using ad blockers

Wikia is not accessible if you've made further modifications. Remove the custom ad blocker rule(s) and the page will load as expected.