This article is a stub. You can help Milo Murphy's Law Wiki by expanding it.
Prinipal Milder
Gender:
Female
Age:
around 50
Friends and Family
Friends:
Unknown
Principal Milder is the principal of Milo's school. And like the majority of Danville residents, she is very much aware of the trouble that follows Milo around.
Appearance
Principal Midler is a middle aged woman with shoulder length brown hair and olive skin.
She wears a light beige shirt, a long beige skirt, and beige high heel shoes.
Personality
Principal Milder is a calm person, which she claims comes from her job as a Middle school principal. However like everyone else she is some-what unsettled by Murphy's Law.
History
Principal Milder first spoke in Rooting for the Enemy where she was surprised to find Milo at the game, having heard that he had promised Coach Mitchell that he wouldn't attend another game after previous mishaps. After Melissa and Milo explained that the coach had given his okay and announced his belief that their team would lose the game at the pep rally, Milder remarked "Did he now? I need to explain pep to that man."
In Athledecamathalon, she see Milo's parents dropping off his lunch and body armor. She takes them to deliver to Milo, but was crushed by the weight of the body armor.
In School Dance, Zack considers telling her that vampire hunters have infiltrated the school dance to hunt down Mr. Drako before hearing how crazy his idea is.
In The Math Book, she gives Melissa the key to a classrooms to retrieve her Math textbook.
In Disaster of My Dreams, she considers Elliot Decker for JCMS' safety inspector, but fires him, but Elliot points out he didn't get hired yet, so she doesn't hire him since his bike and the boulder damaged her car.
In Some Like it Yacht, she became leader of the feral faculty. Her leadership was later challenged by Coach Nolan Mitchell.
Episodes
Trivia
References
Gallery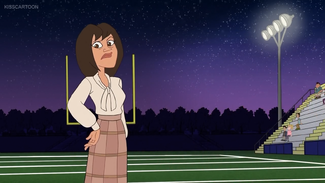 The image gallery for Principal Milder may be viewed here.