Niagara Falls Fling



Lydia having fun for Amanda

Location:
Jefferson County Middle School
Participant(s):
Milo's classmates
Description:
A casual dance engagement accompanied by live music
The Niagara Falls Fling is the name the school dance in the season 1 episode School Dance. Amanda Lopez was chairperson of its decoration, snack, and entertainment committees. She asigns Lydia to have fun for her so she can marshal the event until she is sure that everything is going smoothly. After Vinnie Dakota and Balthazar Cavendish show up to gather information on Milo (with wooden stakes that are for their latest pistachio mission), Chad comes to the conclusion that they are vampire hunters after Mr. Drako.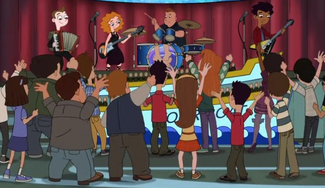 The image gallery for Niagara Falls Fling may be viewed here.
Ad blocker interference detected!
Wikia is a free-to-use site that makes money from advertising. We have a modified experience for viewers using ad blockers

Wikia is not accessible if you've made further modifications. Remove the custom ad blocker rule(s) and the page will load as expected.