Murphy's Lard
Production code:
106b
Broadcast order:
12
Broadcast Information
U.S. Premiere:
March 7, 2017
International Premieres:
see below
"
I'm afraid of... rollercoasters.
"
Murphy's Lard is the 12th episode in the first season of Milo Murphy's Law. [1]
Episode Synopsis
Milo and Zack try to help Melissa overcome her secret fear of roller coasters.
Plot
Milo, Zack, and Melissa go to Lard World, where the boys anticipate going on a roller coaster until they discover that Melissa has a crippling fear of them. After confessing their own fears, Zack's of fish and Milo's of Chinese fingertraps, the pair vow to help her overcome hers. Meanwhile, Balthazar Cavendish and Vinnie Dakota are on their latest pistachio protecting mission, safeguarding a pistachio stand within Lard World itself by building a protective frame around the stand. Balthazar ends up doing all the work, and taking all the heat as various threats to the stand emerge.
Milo and Melissa end up on the roller coaster Greased Thunder, which becomes even more terrifying due to the effects of Murphy's Law. Balthazar and Vinnie succeed in protecting the stand from one threat, only for it to be taken out by a different threat after they've taken down the protective frame. Milo and Melissa survive the ride, and then depart with Zack. Meanwhile, the Lard World mascot Lardee Boy's, is jettisoned into space, and hit by the Aliens that were first seen in Going the Extra Milo.
Transcript
For a full transcript of "Murphy's Lard", click here.
Song
Gallery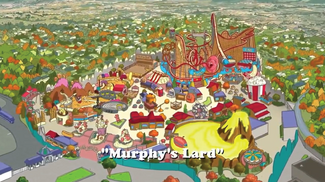 The image gallery for Murphy's Lard may be viewed here.
Notes
International Airings
Trivia
Allusions
Errors
Characters
References
↑ http://tvlistings.zap2it.com/tv/milo-murphys-law-family-vacation-murphys-lard/EP023630960009?aid=zap2it