Ms. Murawski
Gender:
Female
Age:
Between 30-40
Mrs. Murawski is one of the supporting characters of the Disney television series Milo Murphy's Law. She is the Jefferson County Middle School's science teacher.
Background
Personality and Traits
She seems to be very proud of her desk that she claims to have built herself. She talks very fondly of it and starts caressing it in front of the class. Aside from being fond of her desk, she's very responsible and competent when it comes to science assignments and projects, but clearly worries that things could go wrong with or without Milo's EHML around, although she cares for her students, even Milo.
Physical Appearance
Mrs. Murawski is a slender and attractive woman in her late thirties or early forties. She has fair skin, black eyes and brown hair held in a bun. She wears a beige blouse and tan skirt with a brown belt at the waist and a red and brown scarf around her neck. She has dark brown over-the-knee boots with light brown high heels and wears gold hoop earrings and crimson red lipstick.
Gallery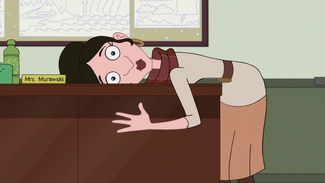 The image gallery for Ms. Murawski may be viewed here.
Episodes Appeared
Ad blocker interference detected!
Wikia is a free-to-use site that makes money from advertising. We have a modified experience for viewers using ad blockers

Wikia is not accessible if you've made further modifications. Remove the custom ad blocker rule(s) and the page will load as expected.