Mr. Chase
Gender:
Male
Age:
30's to 40's
Friends and Family
Spouse(s):
Unknown
Children:
Melissa Chase (daughter)
Mr. Chase is the father of Melissa who works as the Fire Department chief. He is voiced by Adrian Pasdar.
Personality
Mr. Chase take great pride in his job as a fire fighter and is passionate about his occupation's history.
Physical Appearance
Mr. Chase is a man in his prime with a muscular build, brown hair and blue eyes. He is often wearing his firefighter uniform.
Relationships
Mr. Chase is caring towards his daughter. He wants to make sure she knows how to do things, as he describes what he does when he drives.
Mr. Chase is unsure what to make of Milo, he worries whenever he is around him.
Gallery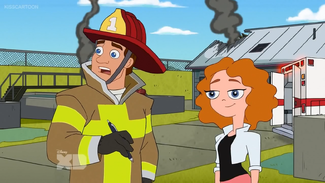 The image gallery for Mr. Chase may be viewed here.
Sightings
Ad blocker interference detected!
Wikia is a free-to-use site that makes money from advertising. We have a modified experience for viewers using ad blockers

Wikia is not accessible if you've made further modifications. Remove the custom ad blocker rule(s) and the page will load as expected.