Mr. Chase
Gender:
Male
Age:
30's to 40's
Friends and Family
Spouse(s):
Unknown
Children:
Melissa Chase (daughter)
Richard Chase is the father of Melissa who works as the Fire Department chief. He is voiced by Adrian Pasdar.
Personality
Mr. Chase takes great pride in his job as a firefighter and is passionate about his occupation's history.
Physical Appearance
Mr. Chase is a man in his prime with a muscular build, brown hair and blue eyes. He is often wearing his firefighter uniform.
History
In Party of Peril, he attends Milo's Birthday party in case anything happens.
In Worked Day he tells his daughter's class about his job as fire chief and watches in horror as Milo starts a fire with water.
In The Little Engine That Couldn't, he takes Melissa and Milo on a ride in an antique fire engine that loses its breaks, which he blames Milo for. But changes his mind when they arrive at the fire engine museum.
In Missing Milo Melissa calls him to ask if he has been called for anything Murphy's Law related, to which he replays no.
In Backward to School Night, he attends the event to hear of his daughter's academic progress when he, Martin Murphy, Eileen Underwood, and Ms. Murawski suddenly became three years old. He and the others are watched after by the kids until they revert back and reminisce about their children, who fell sleeping.
In A Christmas Peril, he meets his daughter at the mall to have Chinese food with the Underwoods and the extended Murphy family.
Relationships
Mr. Chase is caring towards his daughter. He wants to make sure she knows how to do things, as he describes what he does when he drives.
Mr. Chase is unsure what to make of Milo, he worries whenever he is around him.
Gallery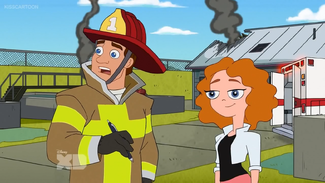 The image gallery for Richard Chase may be viewed here.
Trivia
So far, Mr. Chase is the only one of the main character's parents whose first name has not been revealed in the show.
He appears to be raising Melissa as a single parent, as Melissa's mom doesn't appear to be around.
Sightings