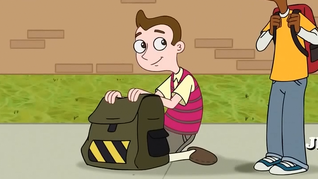 This article is a stub. You can help Milo Murphy's Law Wiki by expanding it.
Milo's backpack is a constant - and seemingly bottomless - accessory of Milo's that contains a vast assortment of items to help him deal with the consequences of Murphy's Law. It originally belonged to Milo's last babysitter, Veronica.
Appearance
It is a large, dark green backpack with black straps and small black pockets on either side. There are diagonal black and yellow stripes reminiscent of a caution sign on the back, beneath the opening flap.
Items
Trivia
The backpack appears to operate on the concept of Hammerspace, as it seems to contain far more objects - and larger objects - than it should be capable of by its size.
Milo does not have it during the Athledecamathalon.
He has a different backpack for backpacking.
The number of stripes on it keeps changing.
He always keeps an anchor in it.
Gallery