Martin Murphy
Gender:
Male
Hometown:
Danville
Professional Information
Profession:
 
Safety Inspector
"
As the city's key safety inspector, most of my job is just to show up. When I'm around anything that can go wrong tends to.
"

— Martin Murphy
Martin Murphy is Milo and Sara's father and Brigette's husband. Like his son, he is the descendant of the namesake of Murphy's Law, and victim to the same principle of perpetual misfortune.
He is voiced by Diedrich Bader.[1]
Personality
Martin is very positive and relaxed in the face of Murphy's Law. He takes the disasters in stride, and even uses his condition to his advantage, working as a city safety inspector.
Physical Appearance
Martin has a narrow face with a sharp chin and a pointed nose. His hair is brown, and in typical Murphy-male style it sticks up at the front. He has a slender build.
Martin wears a very light green dress-shirt with short sleeves and a red striped tie. He wears light colored dress pants with a darker belt and brown sneakers. While at work, Martin wears a yellow hard hat.
History
Early History
Martin grew up with his parents, Grandpa and Grandma Murphy, and brother Joey and inherited the genetic disorder Extreme Hereditary Murphy's Law. He attended many schools in his education. It's implied he moved on from a number of schools due to large amounts of destruction wrought by Murphy's Law.
At some time in his childhood, Martin attended Jefferson County Middle School, where he won a school sports competition solely thanks to the fact that he was the last one standing. After Murphy's law downed every other player, Martin was free to hit the ball into the net at his leisure, winning the game 0-1 in the last seconds and claiming a trophy.
At some point, Martin met Brigette and fell in love with her. On their first date, he notably brought an extra hazmat suit just for her. They later got married and had two children, Sara and Milo. Their dog Diogee completes the members of the family household.
He got into the Doctor Zone franchise and would watch it with Sara from when she was in the fourth grade. This would lead into the show becoming something of an obsession for Sara.
Using his unique condition to his advantage, he became Danville's key city safety inspector, a job he holds during the events of the series.
Recent Events
In Sunny Side Up, he crashed his bicycle into his car and asked his son to get his crutches.
In The Doctor Zone Files, he is seen in Sara's flashback of her birthday where a train came through their backyard.
In Party of Peril, he suggests having Milo's Birthday party at the local go-kart track and helps set up the event.
In Worked Day, his son and his classmates visit him at work and are present when the water plant floods.
In The Wilder West, he and his wife go to an outlet mall, so they only have to pay half price if anything breaks, while his children and his son's friends go to the Nowhere Desert Dude Ranch.
In Family Vacation, he and his family go on a road trip where Milo gets separated from his family and they work frantically to get him back.
In Athledecamathalon he and his wife drop of Milo's lunch and body armor and look for his soccer trophy to no success.
In Time Out he and Milo go fishing on his boat with Zack and his dad.
In Backward to School Night he, Mr. Chase, and Eileen Underwood attend the Jefferson County Middle School parent-teacher conference. During the conference, he, the other parents, and Ms. Murawski are turned into toddlers. Their children chase them around the school until they are turned back into adults. He and the other parents watch their children sleep as they think of their growth but still think of them as babies.
In Love Toboggan, he takes his son and his son's friends skiing and he sprained his ankle in a fall.
In Fungus Among Us, he is seen among the pistachions prisoners at Lard World. He comforts his daughter along with his wife when she is captured.
In Milo Murphy's Halloween Scream-a-Torium!, he decommissions a truck which his son turns into a haunted house. It moves when he opens the garage door.
In A Christmas Peril, he and his wife go to the mall for last minute Christmas shopping. A blizzard hits and they are told to stay inside. Their children come in with the extended Murphy family, much to their delight. They have dinner at a Chinese restaurant at the mall along with the Underwoods, the Chases, Mort and Amanda.
Relationships
Family
Main Article: Martin and Brigette's Relationship
Martin cares deeply for his wife.
Sara is Martin's daughter. He was the one who'd first introduced her to Doctor Zone, leading to her obsession with the show.
Main Article: Martin and Milo's Relationship
Milo is Martin's son. The two of them both experience Murphy's law, and can often relate their experiences, sharing a strong disdain for concrete and the knowledge that, in contrast, snow is soft, with limited potential for harm. Martin tends to have a lot of unusual words of wisdom he uses in different situations, and Milo has taken to quoting his father when something in his own life becomes relevant.
Diogee is the family dog. Like the rest of the family, Martin takes responsibility in sending him home.
Acquaintances
Martin is on good terms with Milo's best friends and enjoys spending time with them alongside Milo.
Martin is on friendly terms with Zack's father and has made an effort to befriend him after the Underwood family moved into town. While Marcus initially denied the existence of Murphy's Law, a fishing trip together was enough to prove him wrong.
Gallery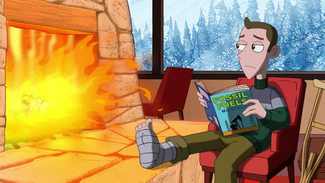 The image gallery for Martin Murphy may be viewed here.
Quotes
"Milo, be a dear and get your dad his crutches."
—Martin Murphy
"Well, the water venting system seems to be working. But, you're going to want to check the stability of that catwalk. And... you're gonna want to replace this T bolt."
—Martin Murphy
"We only have to pay half price when it breaks."
—Martin Murphy
"That trophy has to be here somewhere. I mean I was a legend."
—Martin Murphy
"I got it! No. "Best ceramic statue of a soccer ball 2013". They give trophies for anything nowadays."
—Martin Murphy
"And Murphy's intercepted the ball. He runs down the field and no one can stop him. This may be the best soccer playing that I've seen from a human being or even from some kind of soccer playing robot and Murphy shoots and he s..."
—Martin Murphy
"Knock on wood."
—Martin Murphy
"I know they're growing up, but they're still our babies."
—Martin Murphy
"Milo and I have been skiing lots of times. Snow is soft, and it melts. Unlike, for example, concrete, which is the worst invention in the history of mankind!"
—Martin Murphy
"You know, I really don't like it when they put free samples in these magazines. It makes it very awkward to read. Oh, come on!"
—Martin Murphy
"Thank you, kids. This is wonderful. All the Murphys together in one spot."
—Martin Murphy
Appearances
Trivia
Martin uses his EHML to his advantage in his job as the chief safety inspector. As anything that can go wrong will whenever he is around, he is able to find all faults and potential hazards in the area and have them fixed.
References