Martin Murphy
Gender:
Male
Age:
40's
Martin Murphy is Milo and Sara's father and Brigette's husband, who is voiced by Diedrich Bader. Like his son, he is the descendant of the namesake of Murphy's Law, and victim to the same principle of perpetual misfortune.
Personality
Martin is often very calm, his personality seems to be much like Milo's. He is positive and ready to everything, after all he works as a city-safety inspector.
Physical Appearance
He somewhat has the similar appearance to his son, Milo, he has brown hair, fair-skinned, has a pointy chin, appears to be slender built, and wears a light olive green shirt, with a dark olive green and dark red tie, and a light olive gray pants.
Gallery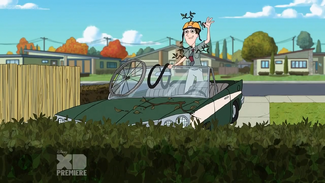 The image gallery for Martin Murphy may be viewed here.
Trivia
Martin has the same bad luck as his son.
Martin uses his EHML to his advantage in his job as the chief safety inspector. As anything that can go wrong will whenever he is around, he is able to find all faults and potential hazards in the area and have them fixed.
Sightings
Reference
Ad blocker interference detected!
Wikia is a free-to-use site that makes money from advertising. We have a modified experience for viewers using ad blockers

Wikia is not accessible if you've made further modifications. Remove the custom ad blocker rule(s) and the page will load as expected.