Lydia
Gender:
Female
Age:
Unknown
Lydia is a character who first appeared in "Going the Extra Milo" and was officially introduced in "The Substitute". She is a friend of Melissa's who recommends a local mall via video message on her cell phone.
Her biggest role was in "School Dance", where she served as the person to have fun for Amanda during the dance.
Physical Appearance
Lydia has light brown hair and dark brown eyes. She wears her hair tied back with a tan hair band. She wears a tan dress that has orange plaid sleeves and skirt with a brown belt. She has tan sneakers and light tan socks.
Personality
Lydia is cheerful, energetic, enthusiastic and loyal. She puts her all into whatever she is doing and can be counted on by her friends to go the distance when called upon.
Episodes
Gallery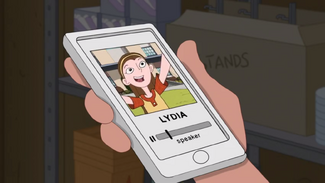 The image gallery for "Lydia" may be viewed here.
Trivia
Ad blocker interference detected!
Wikia is a free-to-use site that makes money from advertising. We have a modified experience for viewers using ad blockers

Wikia is not accessible if you've made further modifications. Remove the custom ad blocker rule(s) and the page will load as expected.