This article is a stub. You can help Milo Murphy's Law Wiki by expanding it.
King Pistachion



King Pistachion in 2175

Gender:
Male
Age:
~158
Friends and Family
Children:
Derek, Jerry, and other pistachions.
King Pistachion was a character who first appeared in Missing Milo. He was the very first pistachion and appears to consider himself the father of most, if not all the other Pistachions.
He is voiced by Rhys Darby
Appearance
King Pistachion, like the other Pistachions, resembles a huge, humanoid pistachio plant. Unlike the others, however, his chest sports a glowing yellow leaf, and his size is considerable. 
Personality
King Pistachion succeeded in world domination and appears to have taken an easy victory over the humans, showing no remorse for their freedom, lives, nor their culture. Despite this, he is shown to be reasonably polite and has a strong love for the other Pistachions, who seem to refer to him as their father. 
History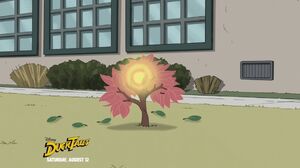 He originally gains sentience in The Substitute, where events lead to a chunk of the sentient blob landing on a broken pistachio plant after a failed mission by Cavendish and Dakota. The plant revives and eventually grows into king Pistachion, who goes on to take over the world.  
In Missing Milo he celebrates his victory over the humans in 2175. It's short-lived, however, as Milo, Cavendish, and Dakota succeed in saving the world, leading him and a group of his Pistachions back to Milo's time and into a battle. He is eventually destroyed by Diogee, who pees on the original plant, thus removing him from the timeline and healing all the damage he'd caused. 
Gallery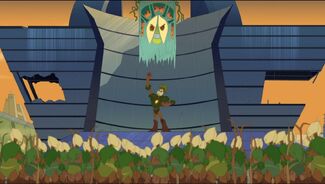 The image gallery for King Pistachion may be viewed here.
Trivia
He is the show's first antagonist.
Appearances