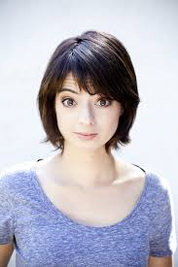 Kate Micucci is an American actress, comedian and Singer-songwriter, known for her work as one half of the musical comedy double act Garfunkel and Oates, as well as her voice-acting work on Steven Universe, Be Cool, Scooby-Doo and Motorcity.
She voices Sara Murphy on Milo Murphy's Law.[1]
http://www.imdb.com/name/nm2177528/?ref_=nv_sr_1
Ad blocker interference detected!
Wikia is a free-to-use site that makes money from advertising. We have a modified experience for viewers using ad blockers

Wikia is not accessible if you've made further modifications. Remove the custom ad blocker rule(s) and the page will load as expected.