Eileen Underwood
Gender:
Female
Age:
40's
Eileen Underwood is Zack's mother. She works as a successful doctor at the hospital. She is voiced by Vanessa Williams.
Physical Appearance
She has dark skin and black hair, with a purple band in it, she also has dark brown lips. She wears wire frame glasses and gold earrings. She wears a white doctor's coat over her purple scrubs. She has white shoes, and a stethoscope around her neck.
History
In Worked Day her son's class came to the hospital, where Murphy's law takes effect and turns an MRI into a super magnet that attracts all metal the city.
In Murphy's Lard she is seen in a flashback with her husband and son in a pontoon in the Saskatchewan river where Zack freaks out and jumps out of the boat when a fish lands by him.
In Perchance to Sleepwalk she and her husband were in a spa while their son and his friends went camping.
Gallery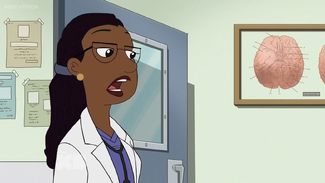 The image gallery for Eileen Underwood may be viewed here.
Trivia
She prefers to be called Dr. Zack's Mom by Zack's peers.
Sightings
References
[1].
Ad blocker interference detected!
Wikia is a free-to-use site that makes money from advertising. We have a modified experience for viewers using ad blockers

Wikia is not accessible if you've made further modifications. Remove the custom ad blocker rule(s) and the page will load as expected.