Doctor Zone
Gender:
Male
Age:
Unknown
Friends and Family
Parents:
Unnamed Mother
Siblings:
Time Ape (brother)
Doctor Hankry Zone is a popular television show character. His eponymous show airs every Saturday during "tea time". He's voiced by Jemaine Clement.
History
Doctor Zone is the protagonist of the television series of a similar name that has been running in various forms for the past fifty years. It features his adventures alongside his brother and sidekick Time Ape against various foes, such as Trashcandroids. Within the show he is played by Orton Mahlson. The show has a considerable following.
In the series itself, Dr. Zone is time traveler who was one of the last survivors of a doomed planet. He was separated from his brother by his escape ship that was used to send him off the planet as an infant, only having room for one of them. After becoming an adult and acquiring his Time Bee-icle, Dr. Zone encountered another time-traveler, a trans-chronological being with a form beyond the comprehension of any normal person. So he changed his appearance to become Time Ape. Later, The Doctor Zone Files The Movie Files revealed that Time Ape is in fact Dr. Zone's brother. He had been mutated when their planet imploded but later re-assumed his true form by reentering his brother's reality.
In Missing Milo, the premier of the formerly lost black-and-white piolet episode - The Seed Beast - shows him having a conversation with Milo.
Appearance
He has orange brown hair, light skin, and is slender-built. He wears a black trench coat, a dark brown hat with a square goggles on top. A maroon shirt is underneath it alongside with a white shirt with an orange handkerchief, a gift box is on his right arm. His left foot is either robotic or he wears a metallic boot, and on the right foot wears a brown strapped sandal belonging to the ancient roman era, he also has a metallic backpack.
Sightings
Gallery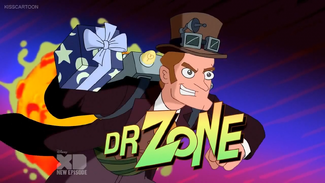 The image gallery for "Doctor Zone" may be viewed here.
Trivia
The actor who plays Dr. Zone is named Orton Mahlson.

Orton is originally from New Zealand. [1]

His show closely resembles popular British show Doctor Who, though unlike that series Dr. Zone's appearance is not shown to change throughout the 50 year run of his show.
During his show's intro, the face of Dr. Zone's future self bears some resemblances to that of Aloyse Von Roddenstein, a villain that appeared on Phineas and Ferb.
Mahlson was inspired to make Doctor Zone after meeting time travelers Vinnie Dakota and Balthazar Cavendish.

The Pilot episode, The Seed Beasts is based on the creator's adventure with Dakota, Cavendish, and Milo.
Reference
Ad blocker interference detected!
Wikia is a free-to-use site that makes money from advertising. We have a modified experience for viewers using ad blockers

Wikia is not accessible if you've made further modifications. Remove the custom ad blocker rule(s) and the page will load as expected.