City of Danville
The City of Danville

Vital statistics

Type
Unknown
Level
Unknown
Location
Unknown
Inhabitants
Unknown
This article is a stub. You can help Milo Murphy's Law Wiki by expanding it.
Danville is a fictional town in the United States of America and the setting of both Phineas and Ferb and Milo Murphy's Law.
Danville was first confirmed as a setting of Milo Murphy's Law when it was listed on the town map used by Dakota and Cavendish to drive a pistachio truck from A Street to B Street. ("Worked Day") Jefferson County is the portion of Danville Milo Murphy's Law takes place in.
Trivia
In the year 2000 a man started some kind of llama trend making many theatres filled with shows with llamas acting in them.
Gallery
Notable Locations
Animal Sanctuary Zoo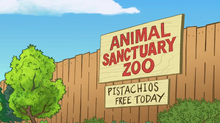 The Animal Sanctuary Zoo is a location in Danville that was visited by Milo, Sara, and Zack in "We're Going to the Zoo".
Appearances: "Sunny Side Up", "We're Going to the Zoo"
External links