This article is a stub. You can help Milo Murphy's Law Wiki by expanding it.
Friends and Family
Friends:
Mort
Chad is a student of Jefferson County Middle School.
He is voiced by Django Marsh. [1]
Physical Appearance
Chad has about the similar stocky built that of Mort, except he is a little shorter than him, he has orange brown hair, medium brown eyes, aprocot skin, he also wears a short sleeve shirt with dark navy blue on the lining, medium navy blue on the top and bottom and a light dull blue in the middle, while he wears a grayish brown pants and a light grey and brown sneakers, he is shown to have braces.
Personality
Chad is shown to be a conspiracy theorist, as he believes his teacher Kyle Drako is a vampire.
History
After making brief appearances in Going the Extra Milo and Party of Peril, Chad was first officially introduced and named in Athledecamathalon. He has a suspicion that Kyle Drako is a real life vampire, which everyone else doesn't believe.
In School Dance Chad is shown to retain his suspicions, and comes to believe that Balthazar Cavendish and Vinnie Dakota are vampire hunters in pursuit of Mr. Drako when they arrive, carrying a bag of wooden stakes. He teams up with Melissa and Zack to confront the pair, only to realize the two show no interest in Mr. Drako at all.
Gallery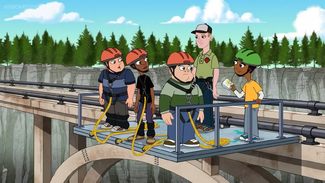 The image gallery for Chad may be viewed here.
Trivia
Sightings
Season 1
Ad blocker interference detected!
Wikia is a free-to-use site that makes money from advertising. We have a modified experience for viewers using ad blockers

Wikia is not accessible if you've made further modifications. Remove the custom ad blocker rule(s) and the page will load as expected.