This article is a stub. You can help Milo Murphy's Law Wiki by expanding it.
Brulee Twin Sisters
Gender:
Female
Age:
Near Milo's age
Charlene Brulee and Sharon Brulee are a pair of identical twin sisters who appear in Family Vacation. They are the daughters of Mr. Brulee and Mrs. Brulee. They are both voiced by Romi Dames.[1]
Physical Apperance
They are distinguishable from each other by their hair accessories. One wears a bow while the other wears a hair clip with a heart decoration.
Relationships
They appear to have an infatuation towards Milo because of how calm he is during disasters as well as towards the disasters themselves, also they seem excited by how "dangerous in a sweater vest" he is.
Gallery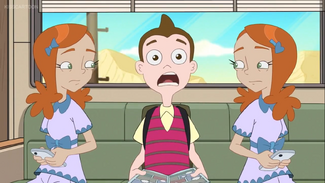 The image gallery for "Brulee twin sisters" may be viewed here.
Trivia
Charlene shares her first name with a reoccurring character from Phineas and Ferb, the ex-wife of Heinz Doofenshmirtz.
Although they are differentiated by individual barrettes, it is never revealed which of the twins is Charlene and which is Sharon.
They not only share their looks, but also the same voice actor.
They share a close resemblance to the creepy twin sisters from the original movie version of Stephen King's "The Shining," including their hairstyles, barrettes, and clothing style.
Appearances
References