Brigette Murphy
Gender:
Female
Age:
Around 40's
Brigette Murphy is Sara and Milo's mother and the wife of Martin Murphy who works as a professional architect. She is voiced by Pamela Adlon.
Personality
Brigette is a caring woman who greatly cares for her family.
Appearance
Bridgette is an adult woman with short dark blond hair and blue eyes. She wears a green collared shirt with blue pants and brown shoes.
History
Brigette first appears in Rooting for the Enemy, where she opens the front door of her home to let Diogee back in after he is told he can't attend the football game between the Geckos and the Tigers.
Brigette also appears in Party of Peril, where Zack and Melissa convince her and Martin to hold a surprise birthday party for Milo at a location other than their house for the first time in years.
In Worked Day her career as an architect is touched upon as Milo expresses his uncertainty as to what he should be, and Brigette encourages him, saying that he has time and can do anything he sets his mind to.
In The Wilder West she and her husband drop Milo, Sara, Zack, and Melissa off at the Nowhere Desert Dude Ranch while they go shopping at a near by discount outlet, based on the fact that it costs less when they are forced to buy said items when they are broken due to the effects of Murphy's Law. Twice in the course of the episode she forgets Sara; she first forgets that she is in the car while Sara is fixated on her phone, which Brigette encourages her not to focus on the entire time they're there. The second time she forgets her at the dude ranch after they picked Milo and the others up.
In Family Vacation she calls having four spare tires not overkill.
In Athledecamathalon she and Martin go to Milo's school to drop of his lunch and body armor.
In We're Going to the Zoo her children and Zack accidentally donated her vintage t-shirt collection and spend an hour chasing them down via bike, bus, ski jump, and ostrich. She tells them that she wanted to give them to them to donate, much to their shock at what they went through to get them back.
In Love Toboggan she works on her blue prints while her husband and son are out skiing and helps her daughter with her possible date. Just as she finishes her work the papers are destroyed when Diogee rides a boiler into the house via the roof.
In Fungus Among Us she and Martin are being held prisoner by Pistachionsat Lard World and they comfort their daughter when she is captured. When Milo gets close to their holding cell she tells him to run.
Relationships
Family
Brigette cares for her husband and does not mind being around him when ever Murphy's Law takes effect.
Brigette cares for her daughter, however she is concerned that she uses her cellphone to often.
Brigette cares greatly for her son as she helps him with his concern for a future career. She also worries whenever he is gone.
Gallery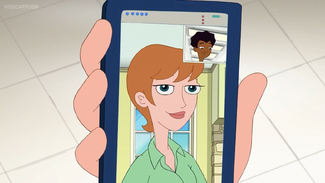 The image gallery for Brigette Murphy may be viewed here.
Appearances
Trivia
Voiced by Pamela Adlon[1]
Brigette is one of only seven characters in season 1 who's eyes have pupils.
Referneces
Ad blocker interference detected!
Wikia is a free-to-use site that makes money from advertising. We have a modified experience for viewers using ad blockers

Wikia is not accessible if you've made further modifications. Remove the custom ad blocker rule(s) and the page will load as expected.